Our Neighbourhood
NOW
Many of our neighbourhoods seem to be stacked against us. They are saturated with fast food and its advertising. There are too many cars, and it's too hard to get to places walking or biking. Our leisure, our commute and workplaces all encourage sitting.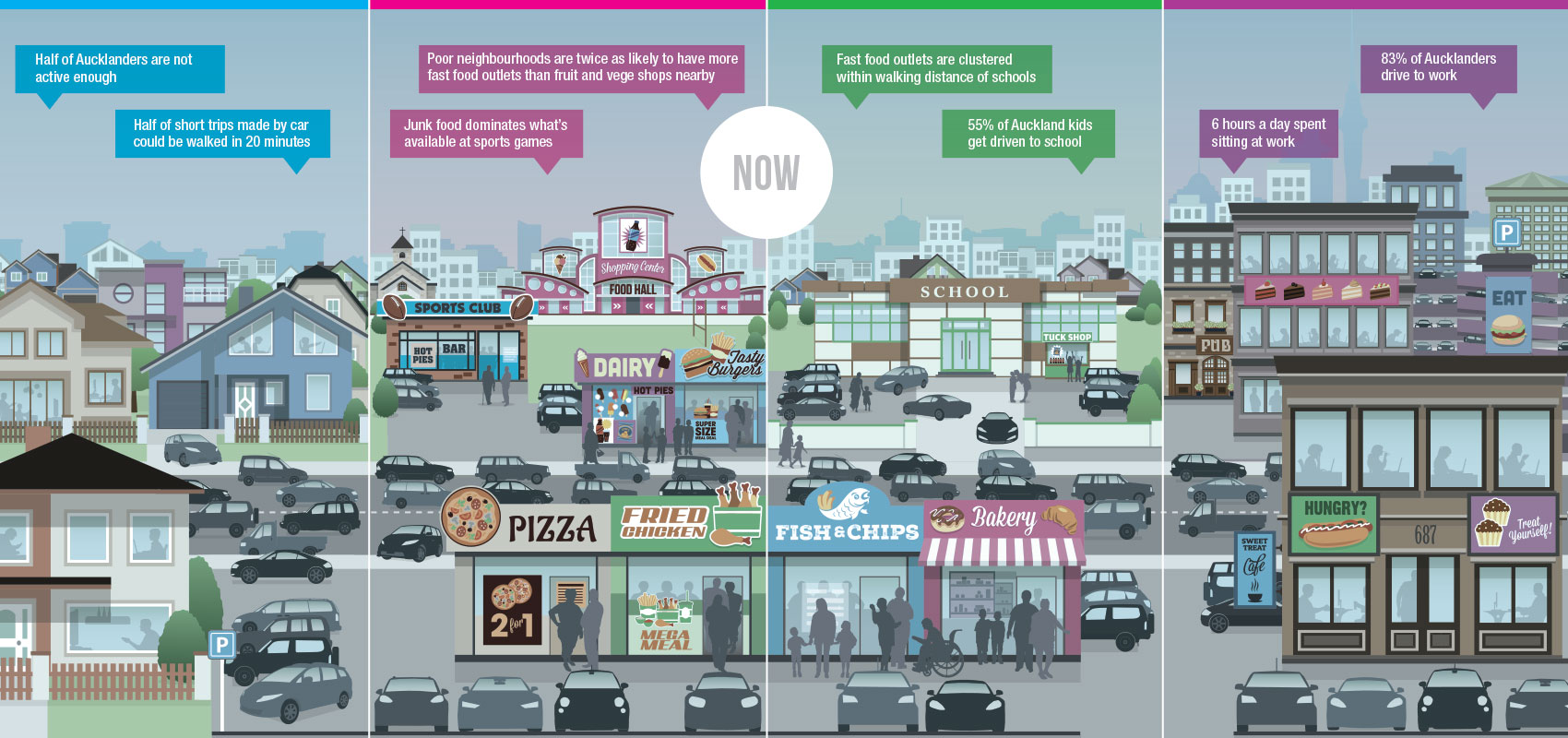 VISION
We can have neighbourhoods where a nutritious diet is the norm and physical activity is easy for everyone.  We can all improve our local environment so its active and healthy - urban and transport planners, sports and other clubs, schools, churches, and businesses.   
How individuals, groups can make a difference
Never doubt that a small group of thoughtful, concerned citizens can change the world. Indeed it is the only thing that ever has — Margaret Mead
It starts in your neighbourhood, your school, your work. Ask for some of the changes you'd like to see, and then keep asking.
Make your voice heard by making submissions to Council to support the provision of parks, cycle paths, and recreational facilities in your neighbourhood. Following advocacy groups like Walk Auckland, Cycle Action Auckland or Generation Zero is a good way to know about important submissions
Sick of Auckland's traffic? If you drive places, you are traffic. It could be quicker and cheaper to go by bike, walk or bus
Be a role model, turn off the screens and get the family out in your local park.


Ask for some healthy menu changes, even simple things like using grainy instead of white bread
Sick of all the fast food in your neighbourhood? Talk to your local board, local newspaper or business association about it
Seen an advertisement with a children's character or role model that promotes junk food? Make a complaint to the Advertising Standards Authority. Get other ideas at Protect Our Kids Facebook page.
http://www.asa.co.nz/codes/codes/childrens-code-for-advertising-food/
https://www.facebook.com/protectourkidsNZ
Ask your child's school or ECE if they have a nutrition policy in place, and if they don't, encourage them to implement one
Wouldn't it be great if your child's school or ECE had a vegetable garden that helped kids learn about food, where it comes from, and how to prepare and enjoy it? There are organisations (Garden to Table and Enviro Schools) that will help your school set one up – it just needs someone like you to give your school the idea
Has your child's school got a walking school bus? How about helping out each week so kids have the opportunity to walk to school.


Organise a fruit box for the lunch room at work instead of a 'snack box'
Start a lunchtime walking club – it's more fun having a group to support each other and is great for stress relief
Sign your workplace up for Auckland Transport's Commute programme, to find better ways to get to work
Show there is an alternative – leave your bike helmet on your desk as a form of role modelling
Create a 'new normal' for internal meetings by making them standing or walking meetings.
https://at.govt.nz/driving-parking/commute/
Get your community facility or club to provide chilled water in a visible place
Get involved in the FoodTogether fruit and vege co-op, a community vegetable garden or neighbourhood produce swapping scheme - www.foodtogether.co.nz

Does your sports club provide healthier food options? Time for them to get on board and fuel athletes with real food.
Let's create a healthy Auckland together. The simple act of sending an email, making a request, signing a petition, or making a submission can make a real difference.